Four years ago after studying Multimedia and Audiovisual Specialist Video-editor, I was still hungry for more so I decided to do my final course Image & Media Technology at the Utrecht school of the arts.
After four very stressful years of hard work, dedication and creation it's hard to believe it's all over now.
I officially passed my final exam on August 23rd 2012 with a short dance film I created with Swedish born dancer/choreographer Tommy Franzén called 'Underneath my skin'.
The graduation ceremony will take place on September 22nd during the event * 'Exposure 2012', where all our graduation work will be showcased to the public.
* It's a free event so why not come along???

If you're curious about my past 4 years at uni, check out this video tour.
http://www.hku.nl/movies/hku/studiekeuze/Media.html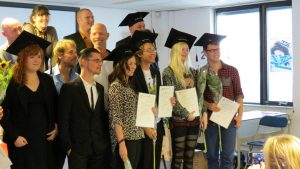 So what's up next? Finding a job that is…
I've been working as a freelancer for the past couple of years but realise I need to find a steady (part-time) job as well.
The life of a student is pretty costly, especially when making a graduation film, I had to invest a lot of money so I need to get into a better financial position if I want to move back to London next year.
Yes, you've read it right… i'm planning to move back to London in 2013 to get my career started.
I want to specialise in music and dance videos as a director and I don't have many opportunities here in The Netherlands.
There isn't much work here either, especially during the current financial crisis.
I'm already struggling to find ANY job, let alone something that will help me grow as an artist.
I'm going to continue my work as a freelancer in The Netherlands until I move out of the country, what I will do besides that I don't know, i'm still job hunting but as I said before, it's really difficult to find work nowadays.
In London I hope to find a job working in the music/dance video industry and keep freelancing on the side doing everything I love, from photography to design.
We'll see what the upcoming year has in store for me. – Sylvia