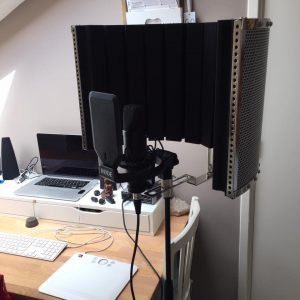 Ever since I was a little kid I silently dreamed of doing voice-over work.
I often sat in front of the tv with the sound off creating my own voice-overs.
In recent years I've been taking a lot of singing classes to improve my karaoke singing ;), and overall voice control. This led to my first live performance and I've recently decided to add voice-over work to my list of skills due to many positive reactions and encouragement from friends and family.
I bought all the voice-over gear I needed and have started taking workshops.
I'm currently working on my demo's and will post them as soon as possible.
This means my company Nova Visuals will soon be able to offer voice-over's as well!
I'm super excited about this and I'm looking forward to working with all of you.
Here I am during a dubbing workshop with Laura Vlasblom in Amsterdam >